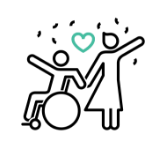 I am generally interested and would like more information.
Explore our FAQs
CLICK HERE to see frequently asked questions and answers.
Contact us
CLICK HERE to send us a message about anything else!
I think Rendever would be a good fit for my organization.

I am interested in Rendever for personal use.
Expanding Impact
If you have a family member at home who could benefit from Rendever, our
Expanding Impact program
may be a good fit. CLICK HERE for more information.
Refer a Community
If your loved one lives in a senior living community that could benefit from Rendever, please CLICK HERE to learn more and refer them to Rendever.
Family Engagement
If your loved ones already has access to Rendever, CLICK HERE to learn more about how to benefit from our family portal.
Rendever at Home
Rendever is only available at the enterprise level at the moment.