Rendever | VR for Healthcare
Where Distraction Therapy Meets Human Connection
At Rendever, we care about each life we touch, each magical moment we create and each memory that can be shared and re-lived. Virtual reality allows life's experiences to be integrated into the healthcare journey - with widespread benefits.
Virtual Reality: the most powerful form of distraction therapy
VR isn't just about entertainment anymore. It's a powerful tool in distraction therapy, playing a crucial role in enhancing patient experience by allowing the patient to experience life beyond the hospital environment, thereby decreasing stress and anxiety.
Rendever brings patients relief and serenity even amidst challenging circumstances. It's more than a distraction; it's an opportunity for patients to continue living wonderful lives while undergoing treatment.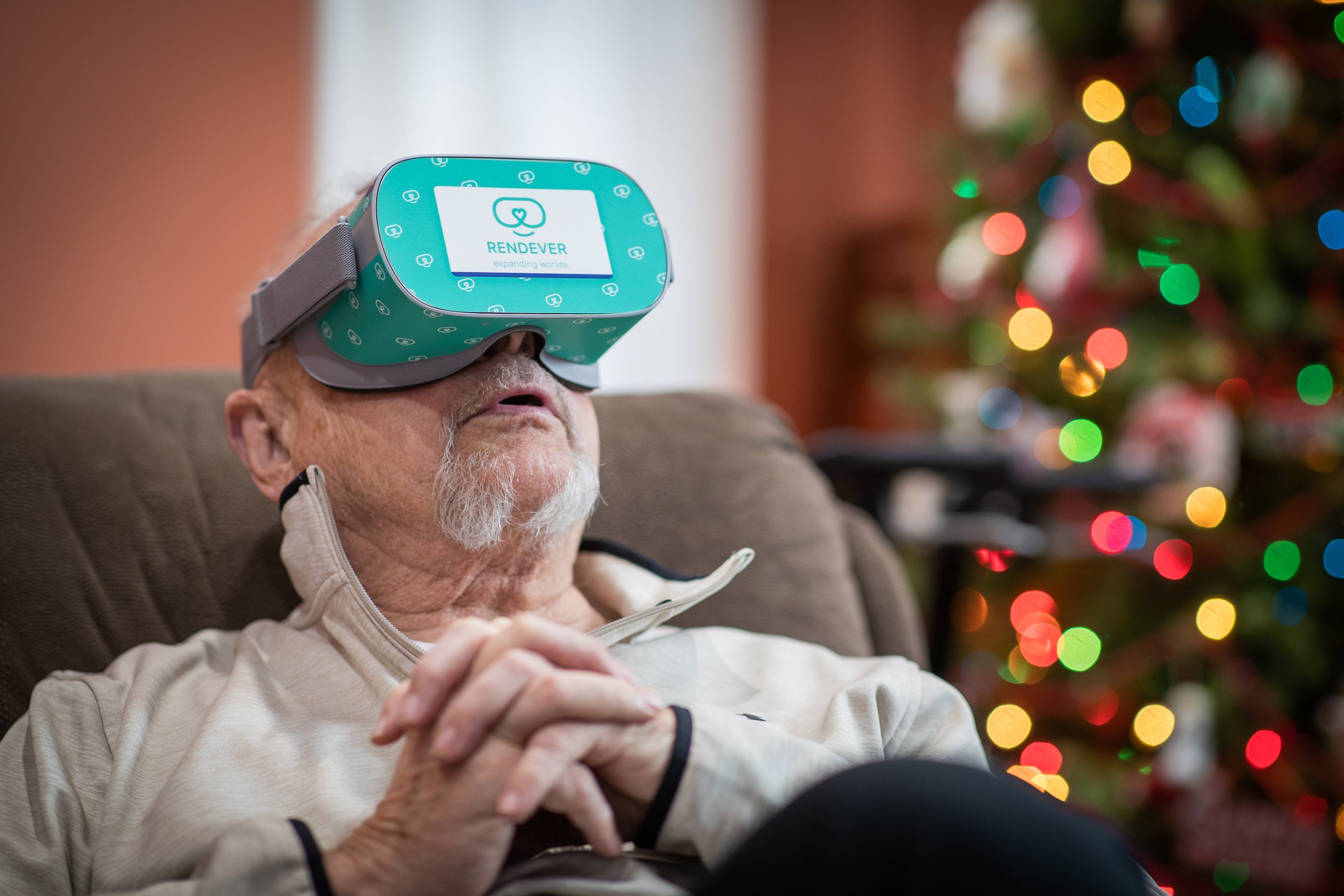 Empowering next-level patient experience
Rendever takes patient experience to new heights. Our platform allows caregivers to control the VR experience for each patient, so patients can sit back, relax, and delve into a different world. And it provides value to everyone in the journey of care - family members can join in on the experience too, fostering unique positive human connection during treatment.
But you don't have to take our word for it. Our feasibility study, conducted alongside our partner UCHealth and published by the Beryl Institute, speaks volumes about the transformative power of VR in healthcare:
92% of patients rated their VR experience as positive to extremely positive.
88% of patients expressed their wish to use VR again during their treatment.
The caregiver experience saw a remarkable improvement too, with the score increasing by a full basis point after a single Rendever session.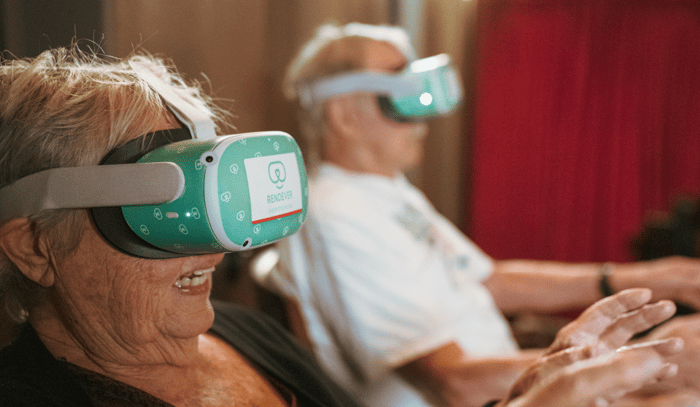 When life has become limited, Rendever is there
Patients looked forward to their VR sessions, and the immersive VR environment has the power to alter their mood and, as validated in a number of studies, significantly decrease anxiety. For a brief moment, patients are able to escape not just their surroundings, but also their illness.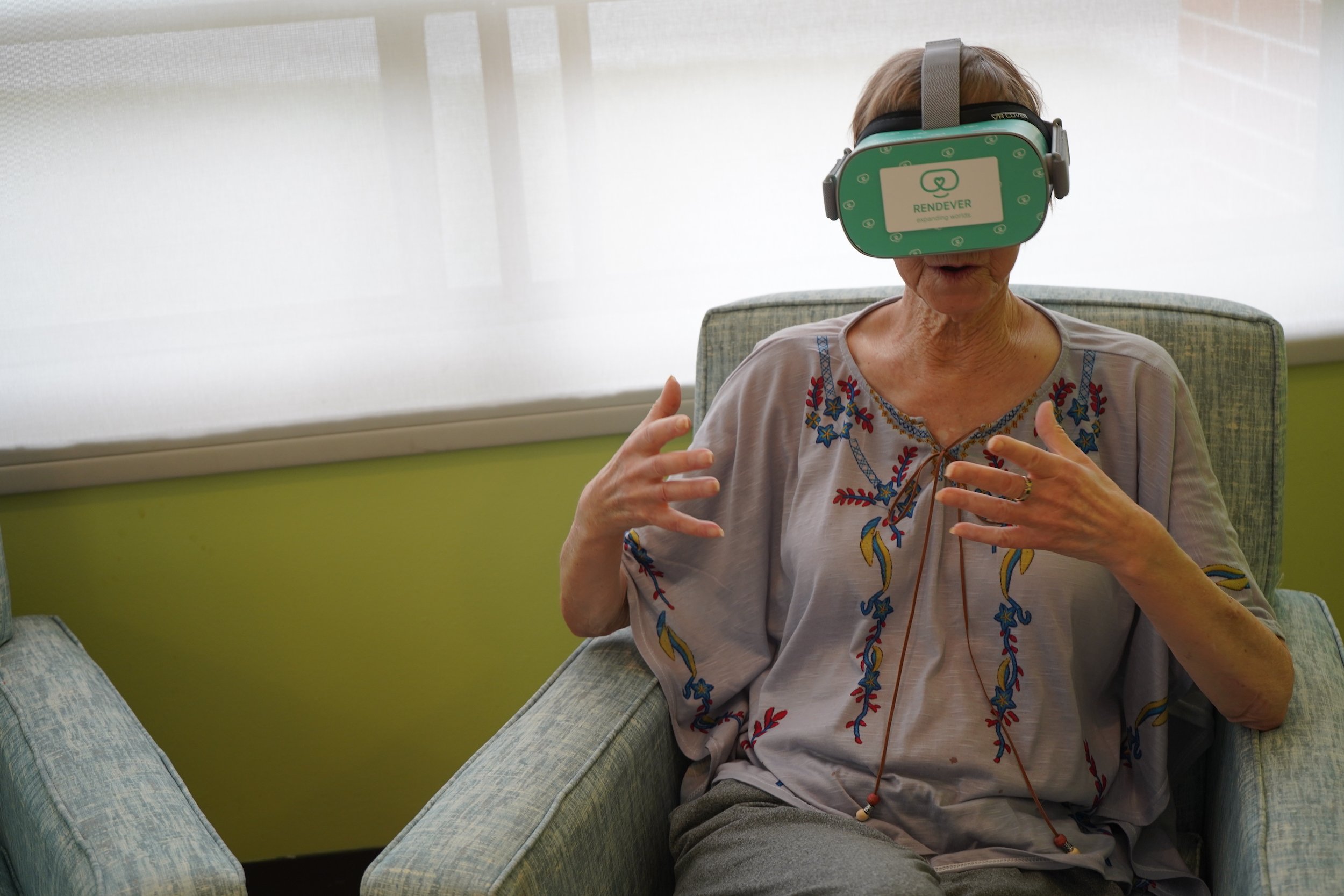 Employee Health
Research shows that VR can help reduce work-related stress among healthcare staff, improving overall wellbeing and productivity.
Employee Health
Acute Pain
Studies indicate that VR can distract patients from acute pain, reducing their perceived pain levels and the need for heavy painkillers.
Acute Pain
Cancer Care
VR can provide mental and emotional relief to cancer patients, making the often strenuous care journey more bearable.
Cancer Care
Burn Units
The immersive distraction of VR has been shown to alleviate the intense pain experienced by burn patients during wound care procedures.
Burn Units
Vaccination Clinics
By transforming a traditionally anxiety-inducing needle procedure into a VR adventure, hospitals are reporting higher patient cooperation and satisfaction.
Vaccination Clinics
Pediatrics
Children's hospitals are using VR to make scary procedures less intimidating, turning fearful pediatric patients into brave explorers.
Pediatrics
Drive Brand Value
Enhance your brand value; partner with major sports teams and celebrities in VR, creating exclusive experiences for your patients
Drive Brand Value
Differentiate Yourself
Stand out from the crowd; pioneer the VR revolution in healthcare and set a new standard for patient care.
Differentiate Yourself
Make Healthcare Delightful, Not Scary
Change the narrative around healthcare; use VR to bring joy, delight, and wonder into every patient's journey.
Make Healthcare Delightful, Not Scary
Increase Patient Satisfaction Scores
Exceed expectations and elevate your patient satisfaction scores with the transformative experiences of VR.
Increase Patient Satisfaction Scores
Our Partners
Don't just take our word for it
Read what our healthcare partners say about us.
"Our minds are complex and can be stimulated by such positive and meaningful interactions. Technology will permeate our health system in ways we have never experienced before. This is one example of embracing the era of digital health."
Next Level Patient Experience
Request a Demo